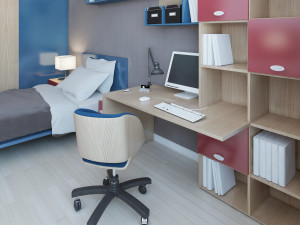 A client called to tell me they had adopted a teenager from Kazakhstan a year earlier, and while becoming Americanized, their new son's room had become a mess. He began collecting stuffed animals, miniature cars and miscellaneous mementos. They wanted him to have these things around him, yet the clutter and mess was overwhelming. I understood both the young man's desire to be surrounded by his new possessions, and the feeling my clients had walking into his room.
Their son needed storage. Since he didn't need much hanging space, I designed his closet with shelves for folded clothing and a minimal of hanging space. With his need for storage taken care of, I addressed how to frugally make the room look better. Since he was a teenager and in transition, I wanted to create something that he could enjoy now but would be flexible to grow with him.
We changed the paint color and created a backdrop for his pieces. They stood out, were visible and off the floor. I suggested his school colors of red, black and grey. The strong colors peeked through behind the many pieces he'd put on hanging shelves. Each wall was painted one of the three colors and we repeated his favorite color twice. Inexpensive shelves were painted in the opposite colors of the walls where they were to be placed, and hung from floor to ceiling. Some of the shelves were staggered and some placed evenly. His pieces were clustered into a collection.
My client was shocked after the project was over. Discussing this project with her son, she realized he was happy to begin releasing some of the "stuff" she thought he wanted to keep. This new experience created a discussion of what was still important to him and what he had already outgrown. His new family learned more about him and his life in his new country.
It was exciting for this family to begin sharing their feelings. This opportunity became a vehicle for a deeper understanding of him through his expression in his personal environment. This young man had already learned that rooms have no feelings, HE does!