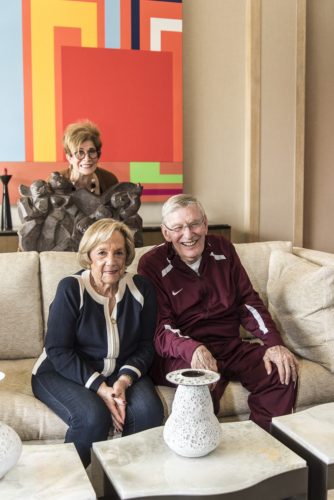 Bud and Sue Selig graciously welcomed me into their home. We chatted surrounded by their unique art collection as they shared their lives with me. Both Sue and Bud were born and raised in Milwaukee where they still have their primary residence. They first met in high school and a few years later met again and married.
Bud first came to Arizona in the early 1970's for spring training with the Minnesota Brewers.  He loved being here and by 1985, Scottsdale had become the Selig's part-time home.
Together, the Seligs have received many significant honors for their philanthropy and corporate citizenship. Last December the Seligs were honored for their philanthropy by the Valley of the Sun JCC.
Bud served as Commissioner of Baseball from 1998 To 2015 and currently serves as Commissioner Emeritus of Baseball.  Bud's passion for baseball was greatly influenced by his mother who took him, at age three to Borchert Field, where the minor league Milwaukee Brewers played.
"Bud is credited with guiding the sport through a renaissance in many ways, most importantly by restructuring the game' s economic system."  Among his many honors are the "Lombardi Award of Excellence." Selig was elected to the National Baseball Hall of Fame in 2017, Wisconsin Athletic Hall of Fame in 2001.
Now that Bud has retired from baseball, he is following his even greater passion, history. He has become a professor of History of Sport and Society and is teaching at both University of Wisconsin and Arizona State University.
Sue Selig has created a beautiful home highlighting their contemporary and colorful art collection. Sue is an ardent art lover who devotes her time to enhance art and culture and is devoted to the Phoenix Art Museum.  Their art collection is bold and exceptional.  Each piece was purposefully chosen with their hearts. They deeply admire all the artists and their works, which embrace them in each room of their home.
Bud's favorite room is his office. He happily reclines in his favorite chair at the desk, positioned in full view of the TV screen (for sports viewing, of course) and phone to keep in touch with his vast network. As a couple they are eclectic leaders, always greeting people with smiles and open hearts. They truly have gifted Arizona with their best!
View the original article in Trends Magazine.