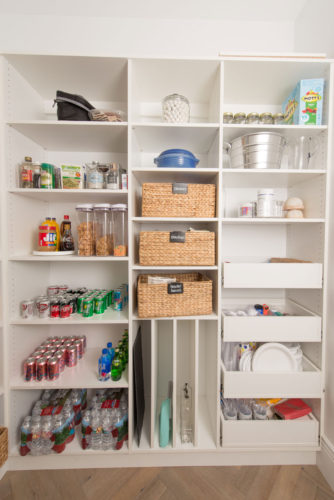 Article originally seen on Classy Closets blog found here. 
Summer is upon us! ☀️🎉 And, you know what that means… It's time to prep your pantry for all of those summer visitors! (AKA: Your kids!)
In the summer, it can feel like your pantry is always empty and always disorganized because you've got a lot of little hands reaching for snacks all day! You're constantly trying to keep it stocked with healthy snacks while wondering where everything you just bought (what feels like yesterday) has already disappeared! It's a mad, mad pantry world in the summer!
Well, we've got some great tips for you! Below are just a few:
Tip #1
Snacks, snacks, snacks!!
Kids always seem EXTRA hungry in the summer. So load up on some healthy favorites! Create a space for easy to reach snacks for your family. Keep the healthy snacks lower so you don't mind the constant grab and go.
Also, make sure that you place them where you can see when you're running low and can add extra snacks to your grocery cart at the next store run. 
Tip #2
Hydration is key!
Don't forget to store water bottles on the lower shelves so that kids can grab their water bottles easily. With temperatures rising and kids outside more, you'll want to make sure they can easily grab water bottles.
Tip #3
Stock up on paperware!
Summer is busy enough, you don't need to be washing dishes at every meal. Buy paper plates, cups, napkins, etc. and keep them in a drawer or cabinet shelf for easy access.
Tip #4
You need a secret shelf (or drawer) just for yourself!
Don't forget to store your secret stash in a safe place. Stock up on some Diet Coke, chocolate, wine or whatever you choose for those rare, quiet summer moments.
Let Us Help!
A Classy Closets' custom pantry can help solve some of your current storage frustrations. There are many options to consider when designing your new pantry. Some of those options include:
Open Shelving: In an area where items are continually removed and replaced, you need to be able to see what you're doing. Open shelving will help store your most used kitchen items, including utensils, small kitchen appliances, and food. Custom shelving will double or triple the current amount of space. Standardized shelving often doesn't maximize the amount of storage space available in your home. Currently, you may have four or five non-adjustable shelves and that just won't cut it! Our shelving is fully-adjustable and is simple to move up or down every 1.26 inches to create the height of the shelf that is best for you.
Linen Pantry: Create a specific pantry to store your linens, tablecloths, napkins and any other materials that need to be stored safely and carefully.
Cabinets: Store essential kitchen non-food items by adding cabinets. Cabinets help to keep things in their proper place and can help store the things you don't use as often or that you may want to protect. Cabinets can also help to cover your storage and help make it more aesthetically pleasing.
Drawers: Designing drawers into your new kitchen storage is a wonderful idea! Just as you already do in your kitchen, you can store smaller utensils and keep them tucked away until you need to use them next.
Accessories: One of the benefits of creating custom storage with us is that you can add essential accessories to your space. A pantry that is filled with only shelves wouldn't help address some of the largest storage issues. Consider some of the many accessories we offer:
Wire Baskets: Wire baskets are perfect for storing potatoes, onions and other heavy food items that can not be stored in air-tight cabinets. Wire baskets make it easy to see what you're storing and are quickly accessible.
Hide-a-way Trash Can: Install a trash can that is concealed by cabinets and it will not be visible in your kitchen or pantry. This is a great way to keep things looking more clean and streamlined.
Canned Good Rotation Rack: Canned goods are often pushed to the back of the pantry and forgotten about until after they expire. With a canned-good rotation rack, your oldest canned good will roll forward and you will place your newest canned goods in the back.
Utility Hooks: Add utility hooks to hang your mop, broom, vacuum, aprons and more! No pantry is complete without utility hooks to help hang your much-used items.
Wine Rack: Install a wine rack for storing and displaying your vintage wines and their accessories.
Countertop Space: Create countertop space above your pantry cabinets to aid in food prep, storage, and cooking. Custom countertop space will significantly improve the functionality of your storage by creating a designated workplace.