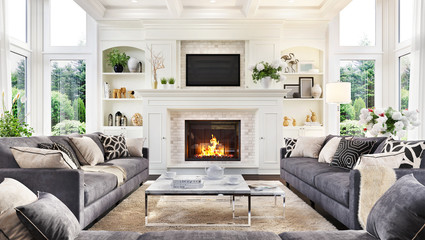 People ask me how they can spruce up their homes easily and comfortably to give them a feeling of both emotion and physical support during this time of change. "Change" seems to be a key word also in design these days.
Previously we left our homes to fulfill the many functions we now look to our homes to provide. Such as additional rooms for teleconferencing for work and with family, space for privacy and hobbies. It seems downsizing is no longer necessary. We now are expanding our requirements and desires and looking to our homes to fulfill them. By spending more time at home, our personal environment has become a complexity of purpose and meaning for our new and old lifestyle.
As I began creating design and lifestyle ideas for this fall, the list became endless There are many different improvements you can make because the need for your home to support you is bigger in ways we never thought before. And they must be personalized for you.
Before starting to make changes in your personal spaces however, you must consider the two fundamental parts of creating a home environment – DESIGN and LIFESTYLE.
First, you must consider Lifestyle, and ask yourself, how am I living in my personal spaces, why is something in my environment which leads to what is this doing for me?
Then comes the Design. Everything in the world is designed!!! Have you ever thought about that? From the chair you are sitting in to your toothbrush. Everything!!! Design must look beautiful and function as well.
So, with this information what choices are you considering to bring the best design and lifestyle choices into your world…your most personal spaces?
A few suggestions:

To make a bold statement of change bring in big bold patterns as accents on your upholstery with pillows, throws or even lamp shades. Using solids as a base is wonderful for longevity reasons … but spice up your style with some outstanding patterns that speak to you. Possibly an accent wall covered in fabric or wallpaper???
Mixing up styles and finishes.  Be daring!! Combine a French style armoire with a contemporary chair for an updated eclectic look. Mixing these also is an opportunity for two people living in the same space to have a design voice.
Painting walls and ceilings can be an easy and inexpensive way to bring in color and brightness.   Sticking with all neutrals may be safe, but you are missing an opportunity to add some excitement to your décor.  Try introducing your favorite color into the room. If not all your walls, you can accent a fireplace or art wall or define an area in the room for definition and interest. If your walls have the popular grey cast, bring in an accent green, yellow or blue or your own surprise color. And don't forget the ceiling for color accent too!
Leather is back! Try incorporating some fun and practicality with colorful and textured leathers into your interior plan. There are many synthetic looking leathers too…you will never know the difference!
Mirrored furniture creates sparkle! And hanging mirrors will open your space. But, always be sure to hang a mirror where you will want to see the reflection.
Avoid – Matching all of your furniture pieces. To create that designer look – make sure to mix and match both finishes and styles. If you are daring…combine shapes and unexpected color combinations, too.
Try placing your furniture away from a wall. Your room will be much more interesting if you can find another way to arrange your furniture.  If you "float" your seating, your space will appear larger as well. And always make sure you are facing something beautiful!
And remember, rooms have no feelings, you do!