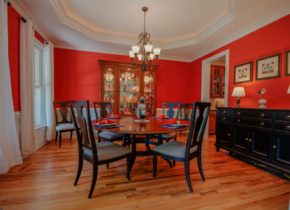 Some people seldom use their dining room and others use it frequently. Either way it is a room to enjoy the experience of dining and sharing with others. Therefore, it can be the ideal room to be designed somewhat outrageously. The creativity will add to and stimulate the event for you and your guests.
Traditionally, most dining rooms are decorated with a table, chairs (maybe host and hostess chairs are different), buffet and display cabinet. Break with tradition and design it uniquely with some surprises.
Tables come in many choices. If it is important to add more people around your table, use an oval-top table with a pedestal base. Having no corners and no legs makes it more versatile. A round table is used less often but is wonderful in a round or square room. In some dining rooms, it is possible to angle a rectangular dining table, corner to corner. This can provide more space to move around, plus it creates interest.
Since hours are spent sitting around the table, the dining room can become a perfect gallery in which to display your art collection.
• Place the art low enough since it will mainly be seen and enjoyed sitting down.
• If you have a collection of precious pieces behind glass in your display cabinet, paint the inside of the cabinet a strong color to make them pop.
• Add free-floating shelves painted the same color to display a collection. The wall becomes a focal point.
Using color on the walls in dining rooms can stimulate or calm appetites and conversation. To be really outrageous, paint each wall a different complimentary color and sit where your mood dictates.
Dining rooms are often long and narrow which can make buffet-style serving awkward. Instead of placing a buffet on the long straight wall, put serving shelves in corners; this way people won't bump into chairs when serving themselves. If the buffet is in an adjoining room, decorate the serving counter color scheme to match the dining room table.
Have you ever considered having more than one table in a dining room? This way you can have small groups at one table or connect them for larger groups.
To create a calming, luxurious feel in the dining room, fill it with plants or at least one large one. Palms are a perfect choice to give a feel of luxurious dining. Use an up-light on the floor angled up under the leaves to create drama and shadows on the ceiling.
Lighting is always important:
• The bottom of the chandelier should be approximately 30 inches off the top of the table or 60 inches off the floor. Each situation various slightly. Use your eye to determine the best clearance.
• The light should be on a dimmer to adjust the intensity for atmosphere as well as temperature so diners are comfortable and not too warm.
• Lighting around the perimeter of a room directed at the artwork adds interest and drama and often provides enough light for dining if you have candles on the table.
• Colored glass pendant lights can be used instead of a single chandelier.
• If the ceiling is dropped over the table, coffered recess lights can be used and paint the ceiling an accent color.
Lastly, sit in each chair of your dining room and experience what each person will be seeing. Make sure it is a pleasant experience for relaxed, happy, comfortable dining.
Decorate to your heart's desire, creating the experience you want. Always remember, rooms have no feelings, YOU do!