Switch, Ditch and Dine
Event Navigation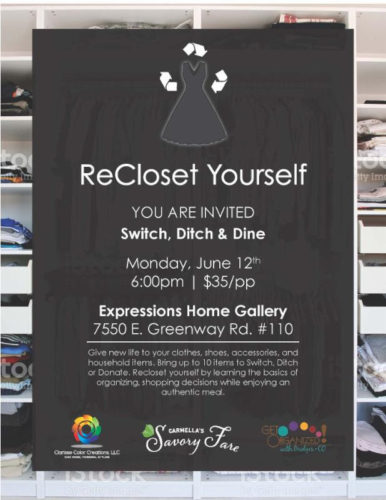 Designers, Inspirers, Entrepreneurs and Anyone for the love of fashion, food & organization are invited to Expressions kitchen and bath showroom for an eventful evening of networking and fun! Learn tips from experts while dining on a gourmet dinner. In addition, bring your best items to switch, ditch or donate. Items can include kitchen and bath décor, clothing, jewelry, household accessory items and shoes and purses.
Bridges Conner, owner of Get Organized with Bridges + CO will be offering foundational methods of effectively organizing your kitchen and cabinets within your home. You will learn some of her proven golden rules of organizing.
Clarisse Ringwald, an Image and Professional Color Consultant, takes the ancient Feng Shui Principles and presents them to a contemporary world.  Learn your personal elements – your Primary Energy (who you are and why you have the preferences you do); your Influencing Energy (how and why you make the purchasing decisions you do) for the ultimate goal of surrounding yourself with the perfect design elements showcased at Expressions Home Gallery.  An Insightful and FUN evening!!
Chef Carmella Diamond, of Savory Fare, will be cooking up a feast featuring food paired with Feng Shui elements in mind. Your taste buds will delight!
So, bring your very best items to swap and learn from the experts at Switch, Ditch and Dine!