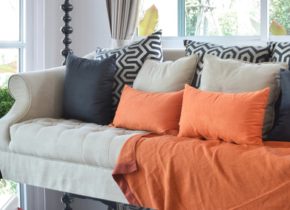 Here we are again – my favorite time of year – autumn. The sameness of the summer heat is relieved by cool mornings and evenings which is a most welcome change. This change of season also symbolizes that the holidays are approaching. We now have a theme for decorating which gives us the opportunity to be creative.
For example, Halloween is an expression of autumn. Lights and decorations are popular and mark the beginning of the holiday season. As I went into my clients' homes, many had some expression of the Halloween season – even the ones who don't have children. Before Halloween, I went to a new client's home where it was obvious that there was a new doormat. It was in bright orange with black lettering on it that said BOO! It put a smile on my face that I was still wearing when my client opened the door.
I, too, was bitten by the Halloween bug. I brought out my orange glass lamp with its black shade. I welcomed it with a cleaning rag, a smile and a central spot in my kitchen. Then I pulled out my orange placemats. Next my orange vase was placed by the sink with fresh fall flowers. I add small pumpkins and other fresh fruits and vegetable as touches of nature. And finally, I hunted for fallen leaves that turned color and placed them about the house and around my floor plants to give me the feel of walking in the leaves.
It is amazing how something as simple as color signals the change of seasons. Simply by introducing color, we are making a statement of each holiday without words.  Burnt orange, deep yellow and rust make you think of fall and Halloween. Winter colors—forest green, red and metallic gold – are most prevalent at Christmas. As we move into Spring and Easter, we see the bright pastels. And then we transition into Summer with whites, off whites and soft, muted pastels.
We can bring these colors into our homes with simple touches of fabric, spray paint or flowers — and then there is the old pillow trick. You need to add only one interchangeable pillow at each season to set the tone in your home.
Living in Arizona, we need to create our own fun and focus of change because the seasons are not as dramatic as in other climates. However, now that it's autumn, we seem to breathe differently and certainly have a different schedule with the daylight hours getting shorter.
One of the ways I create a seasonal difference in my home is with lighting. Because we do not change our clocks, we can use lighting to create a seasonal interior change.  My favorite thing to do is place timers on the up lights that highlight a plant or sculpture. Or you can create a glow behind a piece of furniture, such as a chair or sofa, which gives a warm, inviting, cozy and dramatic look and feel. The subtle light goes on as it gets darker and the light goes off around your bedtime. It is very soothing and calming at the end of the day to have a soft glow in your surroundings. This also supports the feeling that your environment is taking care of you, rather than having to control the light every time you walk into a room.
Remember, you can bring the seasons into your home, by bringing in color and interesting lighting because, rooms have no feelings, YOU do!